CorpsAfrica/Maroc, the inaugural CorpsAfrica program, was established in 2013 with funding from the OCP Foundation. Seven Volunteers participated during the first year, serving in different parts of Morocco, including Essaouira, Tahanout, Safi, and El Jadida. Today, CorpsAfrica/Maroc hosts over 30 Volunteers per cohort, serving in three districts. These Volunteers encounter a range of languages, such as Moroccan Arabic, known as "Darija," as well as multiple Amazigh languages. To actively engage in daily activities and foster trust within the community, Volunteers make an effort to learn the local dialects. CorpsAfrica/Maroc has also emerged as a leading sender of exchange Volunteers who undertake a second year of service in other CorpsAfrica countries, 
CorpsAfrica/Maroc Volunteers frequently implement projects focused on agriculture and education. Given the diversity in official and unofficial languages, these Volunteers often find themselves teaching French, Arabic, or English lessons to both children and adults.
Email Address
Mailing Address
Espace Provincial des Associations de Développement d'Algaouz
Quartier Administratif, Municipalité Tahannaout,
Province d'Al Haouz – Morocco
Country Director

SPECIAL APPEAL: Disaster RELIEF
On September 8th, 2023, a devastating earthquake struck Al Haouz and surrounding areas leading to a catastrophic loss of life and livelihoods. CorpsAfrica is swiftly responding to support affected communities by providing crucial earthquake and disaster relief training to 48 dedicated Volunteers and delivering essential resources to communities in distress. The earthquake impacted communities where Volunteers have served since the beginning of CorpsAfrica affecting families and groups we know well. Your contribution will support training, recovery equipment, and essential resources, ensuring our Volunteers can support these communities to rebuild with resilience. 
"This experience has instilled in me the belief that I am a strong person who can bring positive change to her community and herself. I am a new person who has developed her self-esteem and communication skills. I am a stronger Moroccan citizen who has proven herself through service and now has a clear vision of what she wants to be and how."
"Community goes beyond building a classroom or painting it. Instead, community development is an investment in mindset. We must rethink how we see our situations to change them. During my service, I worked with my local leaders to improve the community; now, they are doing it by themselves. This is sustainable development."
I believe that volunteering shapes a person's heart, mind and soul completely. The chance to share the humble resources I possessed with the community which I eventually considered my home was an incomparable opportunity. By simply opening your eyes and heart to the culture of a new place, you can have an entirely beneficial, life changing experience."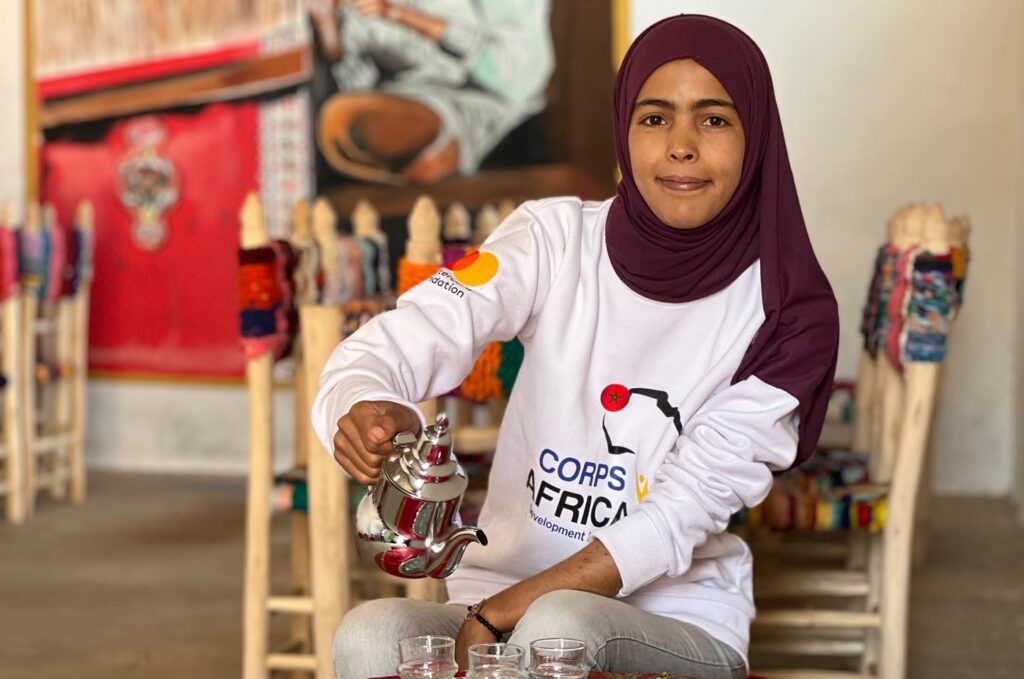 CorpsAfrica recruits ambitious young people to apply their education, build their critical thinking and problem-solving skills, and learn more about their countries and about themselves. They facilitate small-scale, high-impact projects identified by local community members, to fulfill key needs.
We expect to begin accepting applications for the next cohort in early 2024.
CorpsAfrica addresses two of Africa's most difficult challenges: creating opportunities for youth and helping rural communities overcome extreme poverty and build resilience. We recruit motivated volunteers to live and work in remote, low-income areas in their own countries. They collaborate with the community to design and implement small-scale projects that address their top priorities and by doing so gain the skills and experience that lay the foundation for personal and professional success.
CorpsAfrica trusts youth and rural communities to help each other.